SMASH AND BASH
Do you have days where you just want to hit somebody?
As responsible members of society, we can't actually hit people, so why not blow off steam with this game!
We were given the opportunity to develop this title in the 3 months white space we had after the English version of Infinite Space was complete. I had wanted to create a game where the player simply punches the enemy, but was worried that for a console game, this concept would be too simple. In this sense, the chance to create this game was great news.
It is a game for Japanese mobile phones ('feature phones'), and is being distributed through 'Keitai Capcom'. I'm sure this is the perfect game for stressed out people.
Access the following URL and start playing!
http://www.capcom.co.jp/keitai/action/action69.html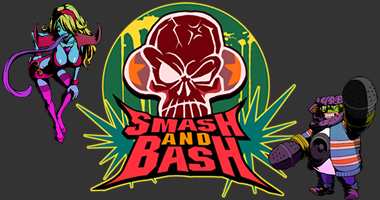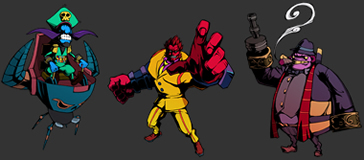 (C)CAPCOM 2010 (C)NUDE MAKER

Dolly the Dolphin
The first native application for the NM Super Lite brand, now available on Android!
Dolly the Dolphin and Jenny the Jellyfish are best friends
They are out in the sea to see how far they can swim
Help Dolly and Jenny to jump over obstacles by using jump and double jump!!
Dolly's speed increases as you swim further, so don't get caught off-guard!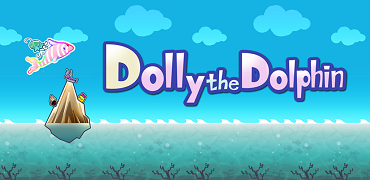 (C)NUDE MAKER

CLOCK TOWER
My first ever original title, and one that paid homage to one of my favorite film directors, Dario Argento. During development, people around me said that a game where the protagonist runs away from the enemy simply would not work. In order to display the texture and atmosphere of each room, for a SNES title at the time, we created graphically rich background environments.

By the way, for the creation of the character graphics, we photographed an actual person, imported it, and made it into CG, a technique that was in vogue at the time. This allowed us to speed up our workflow, and, more importantly, I wanted to try the photograph-importing technique. Looking back, digitized graphics was amongst the most cutting-edge technologies of the time.

The motion actress for Jennifer was a lady that I worked with in the planning division. After explaining the concept of the title, for the day of the shooting she wore a white blouse and navy blue skirt. This was used as Jennifer's outfit in the game. This motion actress did some great work with an animation for tackling enemies. She did such a wonderful job, including hanging from a projection above the entrance to the roof terrace, and stumbling in the hallway, that most of the motions in the game came from her acting.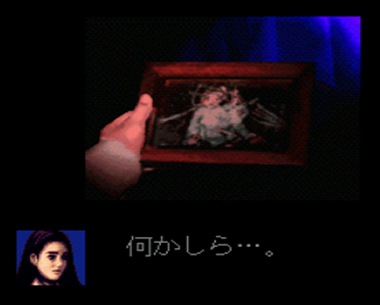 (c)Sunsoft

CLOCK TOWER2
A sequel to CLOCK TOWER. I was not too interested in working on a sequel, but being able to work on a new console, and being able to use 3D polygons, the symbol of 'hi-tech' at the time, I eventually agreed. Soon after we started development, an article introducing BioHazard (Resident Evil for our Western fans) was published. Because it was also a horror title, and because the graphics were so good, our slogan quickly became "Outshine BioHazard!"

The most difficult part about this title was choosing the platform. The PlayStation and Sega Saturn, having just come out, were locked in battle, and the N64 was on its way to the market, making it very difficult to make a decision. Sega Saturn had Virtua Fighter, the icon of next-gen games, and following on from the success of the SNES it was thought that the emergence of the N64 would result in major changes in the balance of power in the console wars. On the other hand, PlayStation was new to the industry, and there were uncertainties over its future. While the PlayStation was leading Sega Saturn in popularity, this was only lookedupon as a preliminary result.

After being stumped for a while, I eventually decided on the PlayStation, and it turned out to be the best decision, based on the choices I was given. It was more of a lucky break than basing my judgement on analysis. Choosing the PlayStation as the platform allowed this title to sell more than xpected.

Possibly because the release dates were so close to each other, most video game stores in the vicinity of our office had their racks laid out as if a rivalry existed between CLOCK TOWER and Enemy Zero.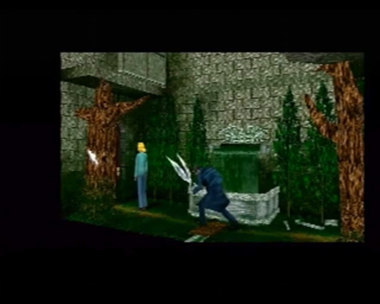 (c)Sunsoft

Neko-Zamurai
This was the first title where I had two assistant directors working with me. Due to their effort, we were able to prepare quite a fleshed-out scenario for this title. When reflecting on developing this title, I recall the two assistant directors and myself went to Nikko Edo-Mura and the Fukagawa region, both deeply connected to the Edo period, for interviews. Results for this title were far from a success, mainly because I was inexperienced in project coordination. More disappointing, there were parts left rough around the edges that we could have brushed up. After this title, I began to be more sensitive toward project coordination.

Despite the results, this is a title I am strongly attached to. In particular, the opening and ending theme music and their movies are my favorite out of all of the titles I have worked on. Also, the Neko-Zamurai fanzinethat one of our fans sent has been kept close to my heart to this day (I take care of all of the things fans send me for other titles as well!!)

The plot for this title (a historical piece, the ghost of a cat speaking human language) comes from a passage in the novel "Tengukaze" by Miyuki Miyabe. The dialog in this novel, especially the stylish remarks made by the cat-ghost are brilliant. I recommend this is a novel to anyone interested.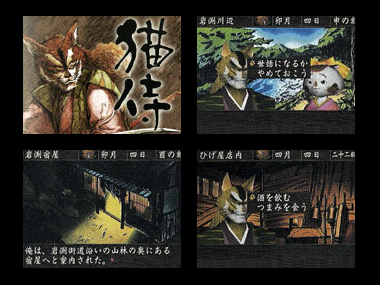 (c)2009 HAMSTER Co.

Mikagura Shojo Tanteidan
If the CLOCK TOWER series game design was based on the search for a system that best approaches the horror genre, this title's game design was based on the search for a system that best approaches the mystery genre. Coming up with a game design based on the theme or genre being addressed, rather than based purely on systems seems to fit my method of creation.

It was difficult to target a specific group of players because while the graphics have the quintessential anime touch to them, the game itself is a gruesome mystery. But for me, that is the reason I like this title.

On a side note, one of the characters, Chizuru Higaki, enjoys Toraya's 'Kaichu-Jiruko', a sweet bean paste filled wafers, that can be dissolved in hot water to make a warm drink. I, too, enjoyed this drink as a high school student while I studied for entrance exams, listening to the late night radio. Some people feel it is too sweet if the whole thing is dissolved, and if this is the case, I recommend breaking the sweet bean paste filled wafers into pieces to adjust the amount being dissolved.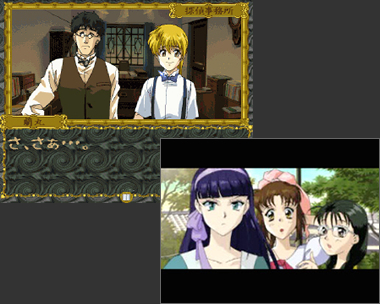 (c)2009 HAMSTER Co. / (c)NUDE MAKER

Zoku-Mikagura Shojo Tanteidan
The sequel to Mikagura Shojo Tanteidan. The original followed the school of Ranpo Edogawa - slightly flavored with pretentiousness - but this title made an effort at creating a Seishi Yokomizo-esque full-blown mystery piece. It is no exaggeration to say that this title's raison d'etre is the chapter "Shinkiro no Ichizoku" (the Mirage Clan). It could be said that all of the episodes from the original lead to this chapter as well. As such, it makes me very happy to know that this chapter is popular among fans.

Also, I was allowed to work with an assistant director, and she wrote the scenario for "Iki Ningyou" (the Living Puppet). The filler dialog she came up with was fresh and stimulating for me, because it was filled with great ideas that would never be written by a male assistant director.

During an interview, I was asked if Tokito Mikagura was a self-insertion character. If you were familiar with the games I have created, you would easily see that the answer to this question is "No way!" My self-insertion is none other than Gonroku Hirata.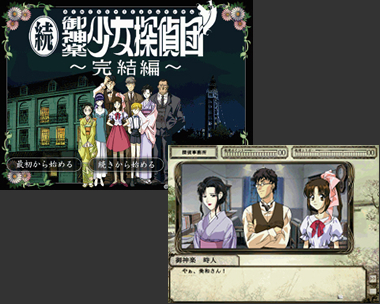 (c)2009 HAMSTER Co. / (c)NUDE MAKER

Steel Battalion
After resting for close to 6 months, Mr. Shinji Mikami (the original creator of BioHazard a.k.a Resident Evil) got in touch with me to make this title. I recall receiving a call from Mr. Mikami when I got home, and being very nervous speaking with him. In that phone call, nothing was set in stone and he wanted to sit down and talk. I thought since I had made CLOCK TOWER, Mr. Mikami would ask me to help with a Resident Evil sequel as an apprentice designer.

As it turns out, when we entered production, our staff worked at Capcom for a joint development effort. Quite frankly, there was a lot for us to learn. Also, I was able to work with a real producer, something I had been proposing for a while, and that provided support for my proposition, which proved to be a great experience for me.

There are many episodes that have already been shared through various media, so I will not elaborate too much, but I feel that there will never be anything that comes close to Steel Battalion, in the sense that despite the general opinion that it is 'crazy', players enjoy it nonetheless. That included, this project was a valuable experience for me.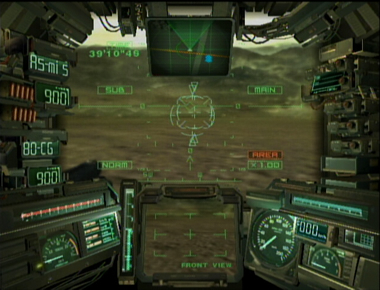 (C)CAPCOM CO., LTD. ALL RIGHTS RESERVED

Steel Battalion Line of Contact
My first attempt at a network-based game. During this project, I had to come and go between Tokyo and Osaka. Steel Battalion didn't seem a bad fit to adapt into an online combat game. However, the networking requirements became a hurdle for players. Infrastructure wise, it was about 5 years early for me to release this game.

There is much to reflect upon, but at the same time there were a lot more players than we originally expected, with much higher levels of skill than we thought. If I were to join a mission, I would more than likely be killed instantly, but then again that would also make me happy too.

I wonder which VTs are the most popular? My favorites are the 'Vitzh', 'Rapier', and the 'Yellow Jacket'.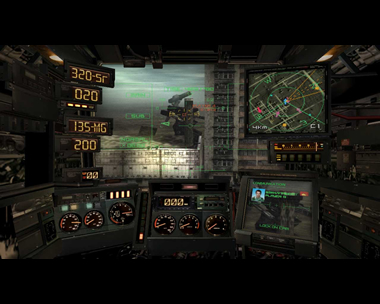 (C)CAPCOM CO., LTD. ALL RIGHTS RESERVED

Infinite Space
I had a tough time with the scenario.

Due to the schedule, I had artists work on the character design while I wrote the scenario. I had my assistant place a good number of design orders for bit parts, but the designs for these minor characters were better than I had imagined, so I decided to change the characters' personalities and their roles based on the designs. (Besides the organization they belong to, most of the minor characters underwent changes.)

Characters subjected to such changes were, for example, Terzi, Formich and Thomas. Thomas had the initial impression of a true bit part, but in the second 'season', he ends up winning a regular spot on the crew. If that's not a promotion, I don't know what is. There's so much more to be said, but the biggest gain from this project was that I was able to challenge myself to do things I had not done before, like Lord Roth's character and the hot-blooded dialog between Delis and Pappas.

One thing that's on my mind is that when I was looking through Wikipedia, there were some mechanical designers that helped us out, but were not being named. I'd like to take this opportunity to recognize some of these designers:-

Mr. Kazuki Miyatake: Mechanical design for Lugovalos Empire ships
Mr. Junji Okubo: Partial mechanical design for Elgava ships Mechanical design for Escondido, Zenito, Libertas ships and Spaceports
Mr. Tetsuyarou Shinkaida: Mechanical design for Kalymnos ships
Mr. Naohiro Washio: Mechanical design for Nova Nacio and Nacio ships
Mr. Mitsuru Tokishiro: Mechanical design for Adis ships
Mr. Goro Murata: Mechanical design for Enemonzo ships
Mr. Kenji Teraoka: Partial mechanical design for Elgava ships
Mr. Yasushi Yamaguchi: Mechanical design for Regeinland ships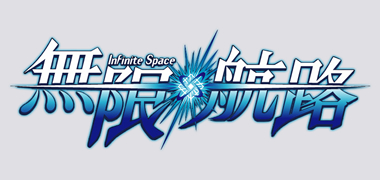 (c) SEGA